Published May 23, 2019
How an Act of Obedience Allowed Me to Have Impact I Never Dreamed I Could Have
Crisis shifted the trajectory of my life
In the mid-nineties I went through a crisis that prompted a shift in my relationship with God. I went from asking God to bless me and my life, to saying I'll do whatever you want me to do and go wherever you want me to go. I was working in architecture at the time, and it seemed that God was telling me to stay in that business and volunteer and provide resources to ministries.
I started getting different nudges from God.
Then over a four-year period, I started getting different nudges from God. I began to feel a stronger pull toward ministry. I realize now that God was preparing me for my work here at the Global Leadership Network (formerly Willow Creek Association WCA).
At that time, the GLN was young and moving fast. God started opening doors to expand internationally, and the organization was trying to figure out what it was supposed to do with these new opportunities.
An act of obedience to step into the unknown
During that season, I volunteered at a GLN conference in Sweden. That's where I met Gary Schwammlein (President Emeritus) for the first time. When he asked to talk with me, I thought it was to discuss my volunteering and helping out the team. But a job opportunity had opened up, and he asked me to interview for it. I didn't have any background in conference operations, but I sensed this was a calling from God and I made a decision to be obedient.  I took the job on the international team in March of 1999.
God was giving me opportunities to do things I never thought I could do.
From 1999 to 2005, the GLN was sharing the innovations of Willow Creek Community Church with church leaders in the U.S. and many other countries.  In my new role, I managed the operations for international conferencing, and worked on everything from travel to building and working with overseas teams, to writing training for event managers, producers and tech directors. God was giving me opportunities to do things I never thought I could do.
By 2003, international leaders started asking us to bring The Global Leadership Summit overseas. It was an exciting and challenging season.
Making or breaking the future of the Summit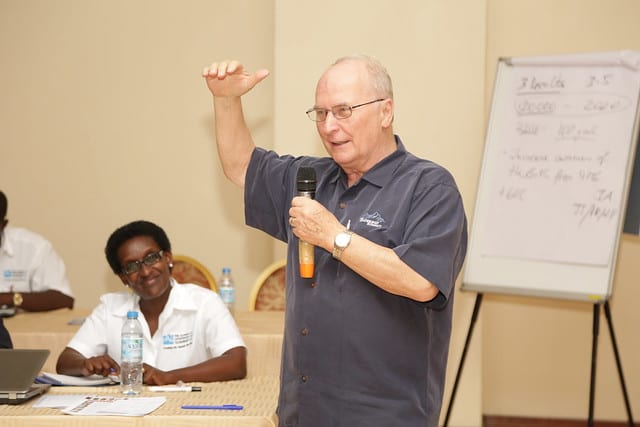 We began brainstorming with international leaders and piloted some ideas to bring the Summit to their countries. We didn't know it then, but these brainstorming sessions would turn out to make or break the future of the Summit internationally.
Initially we thought we could do live events and satellite them to different regions.  But when we tried, it didn't work. The complexity of providing immediate translation was a huge problem, the number of days a live speaker would need to commit to was not feasible, the cost was prohibitive and the model not easily scalable.
Some even said, "That's the dumbest idea I've ever heard. It will never work!"
So, we went back to brainstorming and decided to try video casting after the live event. The church had started doing that with its regional campuses, so we adopted the model and applied it to what we were trying to do internationally.
Gary Schwammlein went on the road for 180 days that year trying to persuade leaders to bring the Summit to their country via this video cast idea. People had major doubts.  Some even said, "That's the dumbest idea I've ever heard. It will never work!" But it was the only model that provided good translation of the content, affordability for attendees and flexibility to contextualize the event.
Conviction takes the lead
Thanks to Gary's conviction (and arm twisting) that year, the GLS now takes place in more than 135 countries today. It's working!
Local teams are able to contextualize the values and principles in their location and learning environments. Each location provides context, translation, application and facilitation. Increasingly, overseas teams are taking even greater ownership, providing additional localized worship, programming and live local speakers. The GLS has become a leadership tool to encourage leaders to accomplish their vision of transformation for their communities.
It's the impact and transformation I witness every day that excites me the most. My bottom line motivation is to mark and impact people on a large scale with eternal values.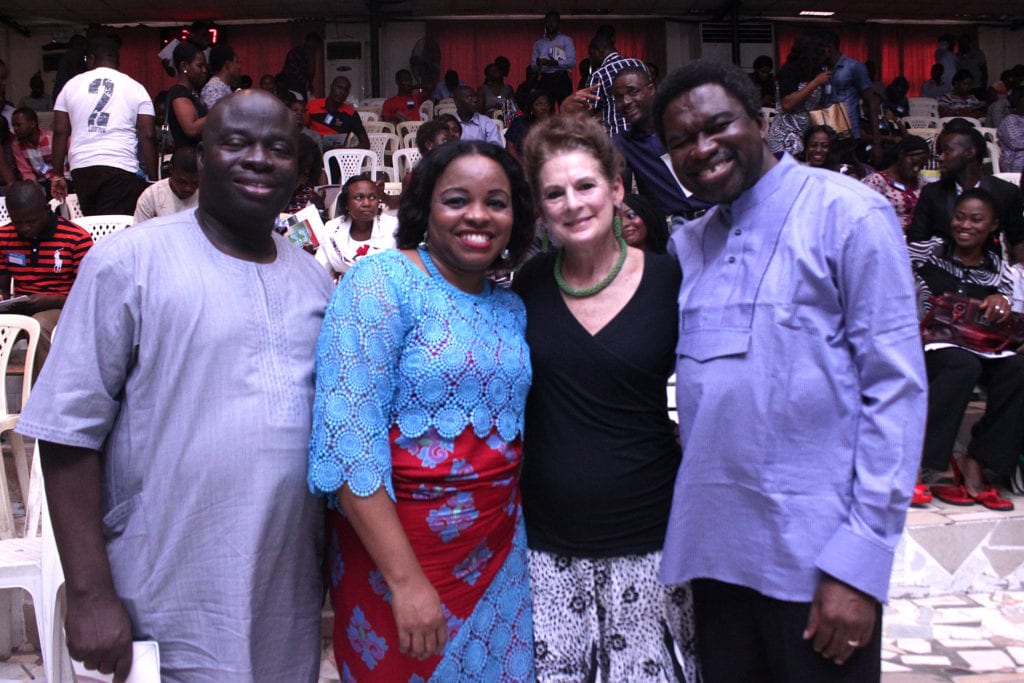 When I got into this role, I didn't see how I could impact people on a large scale.  I actually thought I'd probably be in this position for five years, but God hijacked me—and I'm still here.
There's an entrepreneurial nature in our work here that continues to excite me. With God's guidance, we get clarity as we grow. Before working at the GLN, I didn't realize what an important role the Holy Spirit can have in our lives. Listening to the Holy Spirit speak into what you do each day is humbling. When I started, I didn't dream we could be in all the countries we're in now. But just look how God has moved!
The GLS confronts injustice
When I see injustices in our world, my heart breaks. When I see a corrupt government hurting the people in that country, my heart breaks. It's not the way God designed the world to be.
My most thought-provoking encounter with injustice was when I took a trip to the DR Congo to visit sites for the Summit. I had never seen poverty at that level before. The country had been ravaged by war—not one family escaped. Rape was a common weapon in that war and nearly every family had someone who had been sexually brutalized. Nothing in that country worked right.
I didn't dream we could be in all the countries we're in now. But just look how God has moved!
And there we were, with leaders desperate to change their reality, using any tool available to them. The Global Leadership Summit has since helped this country confront injustice, begin healing and initiate much needed transformation.
It's so easy to take for granted the teaching we have available here in the States. Yet, in places like the DR Congo, it's their lifeblood.
My role in fighting injustice is to create the opportunity for better leadership through the Summit—to help people envision how to use their influence to fight injustice. I know life will never be perfect until we're in heaven, but I think we're here as agents of redemption to reflect Christ-likeness until the end. I'm grateful to be able to use my gifts to build God's Kingdom here on earth.
What is God calling you to?
When I came on staff, it was out of obedience to a calling. I used to live my life and pray for God to fulfill my agenda. But when I asked God for his agenda, and when I said yes to that calling, it changed my life. I don't want to live any other way. If I had not pursued God's calling for my life, I would have missed out on so much.
I don't feel like I joined a Christian organization; I feel like a joined a community of people who want to live out biblical principles together and with others. We have a common goal to build the Church globally. I love working with people who have that kind of commitment.
We all have influence and we are responsible for stewarding that influence, improving our abilities, refreshing our vision and networking with like-minded leaders. You are a difference maker in your community, family, organization, city, country and beyond.
What is God calling you to do?