Published October 16, 2019
Inmates Experiencing the GLS Feel "Worth Something"
My personal touch point with correctional facilities and institutions began because both my parents spent the past decade in and out of jail and prison. Most people are shocked when I tell them I attended my first AA meeting at age 11. I spent many holidays visiting loved ones in detox centers, rehab centers, a mental institution, and now as an adult, behind bars when visiting my parents.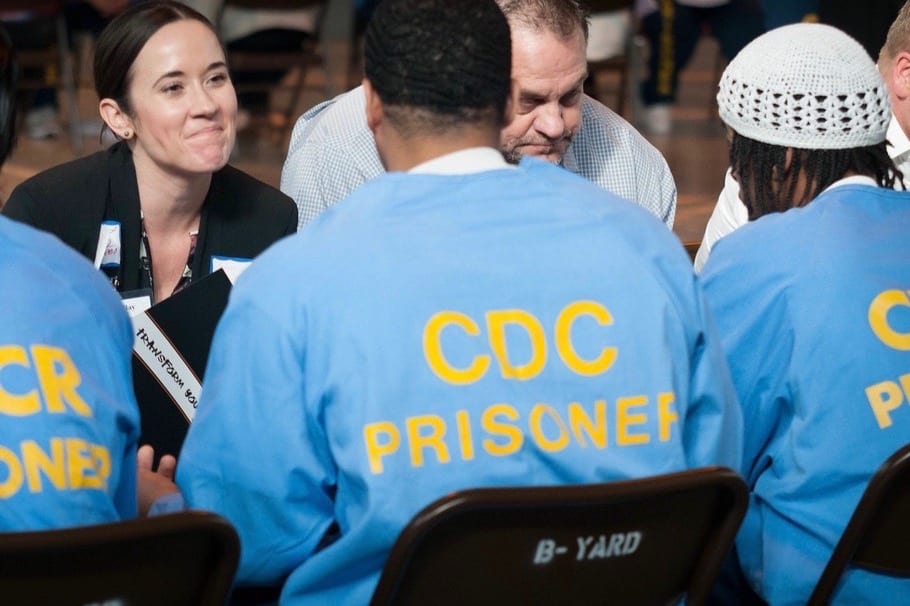 I've had a lot of experiences that exposed me to those who end up inside our criminal justice system. I served an apprenticeship at a law firm in high school that dealt with high profile criminal cases, and my first real job out of undergraduate school was at Florida's largest non-profit for children and families who were affected by the absence of parenting largely due to incarceration.
I don't see myself as a victim, but as an approachable, unconditionally understanding advocate. I have developed the ability to disrupt dark places and spaces with light— I can find the good in anyone or anything and feel strongly that my calling is centered around the underdogs of the world. I'm especially passionate about advocating and working alongside those who have made grave mistakes.
I still find myself facing road blocks and speed bumps along the way, including overworked correctional staff, lack of resources, and outdated support systems. But this does not stop me. Sometimes what frustrates you is the very thing that motivates you. And I have never been more motivated. I heard the best way to find your passion is to ask yourself what breaks your heart and to then go about fixing it. People often ask me, "Why serve and volunteer with people in prison?"
I respond, because…
I know what it's like to have someone who brought you into this world not be in it with you.
I believe it's never too late to do the right thing.
Second chances are all of ours to have.
None of us want to be known for the worst thing we've ever done.
Humanity in unplugged isolation is actually the biggest melting box of creative energy I've ever experienced
I actually have so much in common with people who've been incarcerated.
And here's the truth: I actually have so much in common with people who've been incarcerated. I would describe myself to have many of the characteristics they do: a scrappy hustler mentality, ability to overcome adversity, a drive to defy odds, competitive, risk-taking, love a challenge, ability to identify unique market opportunities, resourceful and tenacious.
For so long I was a bit of an untraditional active advocate in this space. Wardens, parole officers, attendants, probation officers, and judges weren't used to a young, educated, articulate female softly asking questions, sitting back, but never still, and relentlessly pursuing answers that supported positive engagement. I am grateful beyond measure to see more people like me in the world today—although still not enough, plenty to celebrate.
My introduction to the Summit opened up a whole new world for me, especially around my passion.
Back in 2017, I was serving within and helping facilitate a program called "The CEO of Your New Life" at Pelican Bay State Prison. This historically infamous supermax prison is tucked away in a seaside town, and is the most notorious penitentiary in America. That same year I attended The Global Leadership Summit for the first time.
During one of the announcements I heard, "This Summit is being broadcast in over 40 correctional institutions around the U.S."
…it's because of you that there are people sitting in chapels in correctional institutions who now feel like they are "worth something."
My ears perked up. Long story short, I set out to bring the GLS to correctional facilities here in my own neighborhood in Florida. The GLS gave me a vehicle to connect, communicate and engage with the population of people who I'm most interested in serving. With the help of friends and God steering my ship, I have helped bring the Summit to 12 correctional facilities here in Florida! I've been serving with every chaplain in Region 1 to expand the reach of this offering, and I am proud to say that nine of the sites in 2019 were brand new. This initiative has taken an incredible amount of heavy lifting and I am committed to the momentum as it builds! It really matters! Why?
Leadership is simply one word: Influence. And we all have influence. Including those who are incarcerated.
This is the outcome of bringing the GLS to prison:
Inmates feel more self-actualization through self-awareness
They have an advanced positive leadership training experience
They feel "worth something"
They proclaim things like this:
"It helped me understand that I can make a difference in the lives of those around me."
"I've never attended anything as powerful and inspiring."
"I would like to be a part of it every year and one day a partner of the program to present it in the Bahamas when I get out."
"Seeing the stories tells me I can get through this."
"It gave me more courage to keep pushing forward. I'm more confident, more focused on my vision and with more power to change the world."
"I feel like I've invested my time in something that is going to help me for the rest of my life."
"I'm about to turn my incarceration into a positive outcome. I now look at it as just a life learning experience."
"I plan to make a difference in the world, my community, my home, and my job, and most of all in myself!"
"I'm ready to elevate and commit to my purpose in life."
The most moving though? This one:
Because of so many people I know who believe in a true resurrection, responses like this are possible. For all the people who practice what's preached and believe in grace after rejection, who believe in restoration after the unthinkable and forgiveness even after the darkest hour—it's because of you that there are people sitting in chapels in correctional institutions who now feel like they are "worth something."
Most want justice for all and mercy for themselves. God has shown me that people's beliefs drive their values and their values drive their leadership. The GLS has given me even more opportunity to connect dots and thread together chances to engage, teach, coach, mentor and support those who are incarcerated, and do that way beyond my wildest dreams.